Click for music

Whisky collection
Background.



I started collecting Single Malts as early as 1970. Initially I formulated
a primary goal. It was to taste and acquire a complete collection that
spanned over a period from 1945 and onward; reflecting all possible
production lines in operation on and off during that time frame. That
goal is now almost achieved, as shown in tables below. However, I am
looking for a few samples to get my collection complete. The few ones
I am lacking are included on my general 'Search for Page'.
My reason for choosing 1945 as the starting year was the extreme scarcity of
pre-war and war time Malts from the distilleries that became defunct before 1945.

A complete list mapping all distilleries active during the period 1885 until 1945
are found at 'Lost Distilleries 1885-1945' and in
a table below. 1885-6 were the years of Alfred Barnards
compilation of all active malt whisky distilleries in UK. His magnum opus (The
Whisky Distilleries of United Kingdom) was published the following year.
Basic data regarding distilleries closed before 1885 such as site, chain of
ownership and open/close years may be found in 'The Scotch Whisky
Industry Record' by Charles Craig, ISBN 0-9522646-0-9. Other data are
very scars or nonexisisting.

A list of ownership to todays active distilleries are found at Ownership

The tables, which may serve the purpose of being lists of reference
for fellow collectors, identifies not only all the distilleries that have been
in production on and off during that time slot. But also all 'hard' versions
e.g. samples from alternative production lines within the same distillery.

I have not included all my 'soft' versions (e.g. label versions of identical
production lines) in the tables. My listing is therefore more a 'consistency'
listing than a 'quantity' listing. Excluding simple label versions my 'soft version'
segment consist of sub-groups such as:

o 'Vintage' ranges such as the Macallan 18 years (first bottling 1964, actual is 1982).
o 'Antique' versions like the only existing Vintage 1942 versions
( they are Macallan bottled 1977, with 3 known bottles
remaining, and Mortlach bottled 1992 yielding 177 bottles).
o 'Odd cask' treated versions.
- Odd Cask matured, 100% of the time in port, madeira, rhum, cognac, or table wine casks
(f.x. Glenmorangies Syrah and Cab. Sauvignon. Glen Morays' Chardonnay and Chenin Blanc casks).
- Odd Cask finished, such as Glenmorangies, Balvenies and Classic Malts double-wood
(Finishing is made by racking the whisky from the traditional bourbon casks into odd casks
were the whisky spends a final period that may may vary from 6 to 36 month, or longer).
This group includes also oddities such as usage of 100% new casks of am. oak (Glenmorangie Cellar 13),
unsherried Macallan and sherried Glenmorangie etc.
o 'Others' like Age, Strength and Independent Bottlers versions
plus original producer versions such as 'Rare Malt, Flora & Fauna, Manager's Dram etc.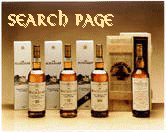 Click on the icon to obtain access to lists of collectible (and consumable) items.


Over the years my collection become almost complete. I am however, lacking a few samples. Hence this 'advertisement' to try to locate the missing ones. Hopefully, this may also serve the purpose of helping me to establish contacts with other Single Malt collectors and enthusiasts.


As a collector, it is my staunch belif that whisky is made for consumption, not for collecting dust. So I therefore buy at least two bottles; one for immediate examination and note-taking , the other one for the 'collection' which in other words is just a defered consumption occasion.


I not only collect Single Malt Whisky , but also these related objects:
o Whisky related litterature. My reference library contains 170+ of 250+ possible
titles and is listed under Whisky Library.
And lately, promotional videos and televised whisky features, listed at the same page..
o Anomalies e.g. per definition correct Malt Whisky but lacking the important
geographic parameter 'Scotland'. I assume this part of my collection is constantly growing and never to
be completed. For reference see Table 2.
o Single Grain Whiskies. Collection is not complete. Table 3 lists my achievment so far.



Recently, I decided to continue to expand my collection with the 'almost-impossible- to-get-malts' e.g Single Malts produced at distilleries that became silent during the years 1885 to 1945. The starting year of 1885 is choosen because the first systematic and reliable mapping of the complete whisky industry began at this time. The scrutinizing work was done by Alfred Barnard and resulted in a 'bible' published 1987 that should be in the possession of all serious collectors and enthusiasts. It does exist as a reprint. The original, worth a small fortune, is known to exist in only a few copies.


Since you have read this far, I hope you will review the tables
that I have provided below. Please feel free to update, correct
or comment upon their contents. Forms (note and email) are
provided at the end of the Whisky page.


The format of the tables are as follows:
The tables are in alphabetic order.
All primary distillery names are written with Normal font, and so are all
free standing secondary production lines (a foot note reference is added though).
All other versions (e.g. recipe versions) are written with Italic font.
Reference figures, for footnotes, explains backgrounds and 'parent' distilleries.
A paranthesis as (X nnnn) denotes if and when (nnnn=YEAR) a distillery became
defunct (D) or mothballed (M). No future production are possible from the
defunct ones. The mothballed ones may re-surrect in the future (hopefully near).
Some of the listed distilleries may be temporary silent as well.
The ones I am lacking are underlined and written in this color and
follow above formats. They are NOT 'clickable'.

Reason for lacking certain distilleries are in most cases that the fluid ought to, but probably never
was bottled under that name, not even by independent bottlers. This is indicated
with a question mark after the name.

NB! Two brand new destilleries (Ladybank and Kilchoman) may come on-line in near future. However, they
are still under financing phase and, hence, NOT in production yet (2002).

2004.04.16


A complete list of all Single Malt Production Lines from 1945 to today
A continously updated list of mothballed/defunct distilleries is found at the end of the page.

| | | |
| --- | --- | --- |
| Aberfeldy | Aberlour-Glenlivet | An Cnoc (23) |
| Allt a Bhainne | Ardbeg | Ardmore |
| Auchentoshan | Auchroisk, the Singleton | Aultmore |
| Balblair | Balmenach | Balvenie |
| Banff (D 1983) | Ben Nevis (1) | Ben Wyvis (2) (D 1965) |
| Benriach | Benrinnes | Benromach |
| Bladnoch (M 1993) | Blair Athol | Bowmore |
| Braes of Glenlivet/Braeval (19) | Brora (3) (D 1983) | Brechin (4) |
| Bruichladdich (M 1995) (28) | Bunnahabhain | Burnside (5) |
| Caol Ila | Caperdonich | Cardhu |
| Clynelish A (3) (D 1983) | Clynelish B (3) | Coleburn (D 1985) |
| Convalmore (D 1985) | Cragganmore | Craigduff (25) |
| Craigellachie | Dailuaine | Dallas Dhu (D 1983), (26) |
| Dallas Mohr (26) | Dalmore | Dalwhinnie |
| Deanston | Duffton-Glenlivet | Edradour |
| Fettercairn | Glen Albyn (D 1983) | Glen Deveron (6) |
| Glen Elgin | Glen Esk (7) (D 1983) | Glen Flagler (8) (D 1985) |
| Glen Garioch | Glen Grant | Glen Keith (24) |
| Glen Mohr | Glen Moray | Glen Scotia (M 1994) (22) |
| Glen Spey | Glenallacchie | Glenburgie-Glenlivet (9) |
| Glencadam | Glencraig (9) (D 1981) | Glendronach (M 1995) |
| Glendullan | Glenfarclas | Glenfiddich |
| Glenglassaugh (M 1986) | Glengoyne | Glenisla (24) |
| Glenkinchie (20) | Glenlivet (21) | Glenlochy (D 1983) |
| Glenlossie | Glenmorangie | Glen Ord/Glenordie (10) |
| Glenrothes-Glenlivet | Glentauchers | Glenturret |
| Glenugie (D 1983) | Glenury-Royal (D 1985) | Hazelburn (5) |
| Highland Park | Hillside (7) | Imperial (M 1998) |
| Inchgower | Inchmurrin (11) | Inverleven (12) (D 1991) |
| Isle of Arran (17) | Isle of Jura | Kilchoman (27). |
| Killyloch (8) (D 1985) | Kinclaith (D 1976) | Kininvie (17) |
| Knockando | Knockdhu (23) | Ladyburn (D 1975) |
| Lagavulin | Laphroaig | Ledaig (16) |
| Linkwood | Littlemill (29) (D 1994) | Loch Lomond (11) |
| Lochnagar (Royal) | Lochside (D 1992) | Lomond (12) (D 1985) |
| Longrow (5) | Longmorn | MacAllan |
| MacDuff (6) | Malt Mill (13) (1960) | Mannochmore (D 1995) |
| Mosstowie (14 ) (D 1981) | North Port (4) (D 1983) | Oban |
| . | Pityvaich (M 1993) | Port Ellen (D 1983) |
| Pulteney | Rhosdhu (11) | Rosebank (M 1993) |
| Royal Brackla | S:t Magdalena (D 1983) | Scapa (M 1994) |
| Speyburn | Speyside/Drumguish (18) | Springbank (5) |
| Strathisla (25) | Strathmill | Strathmore (D 1960) (15) |
| Talisker | Tamdhu-Glenlivet | Tamnavulin-Glenlivet (M 1995) |
| Teaninich | Tobermory (16) | Tomatin |
| Tomintoul | Tormore | Tullibardine (M 1995) |
Notes:

A Single Malt NOT listed here is a LABEL variation or VATTED version only.
The bottle content is from any of the above mentioned distilleries. The reasons for
different labels are simply quality aspects (low) or market aspects (volume buyer
demanding own label) only.

1)
Produced on the premises of Ben Nevis Grain Distillery.
2)
The new Ben Wyvis II (1965-1977) was produced on the premises of Invergordon
Grain distillery. The old Ben Wyvis I was produced at Ferintosh Distillery which closed 1926.
Approx 600 bottles of Ben Wyvis II are released by Signatory, March 2000 (circa £700 per bottle in UK)
Except for Malt Mill and and Strathmore this is the hardest one to obtain of the post WW II distilleries.
3)
Brora is the same distillery as Clynelish (A). The name Clynelish (A) was used until 1969. It became a 'new' distillery due to an extensive rebuilding 1969 and renamed Brora. Clynelish A is pre 1969 and Brora is post 1969. E.g. two different distilleries due to the re-building. Confusingly, there are some Clynelish (A) bottlings (Cadenhead's f.x) pre 1969 under the Brora name The distillery is closed since 1983.
Clynelish B was build, 1968 and is a completely different and unique distillery, and in operation.
4)
A recipe version of North Port, defunct 1993.
5)
Longrow is produced (from 1997) by Springbank. The name is lended from a defunct
Campbeltown distillery. It is distilled by usage of Springbanks equipment, modified for this version. It is a whisky more peated than regular Springbank.
Hazelburn is triple distilled, unlike regular Springbank's odd "2½ times", exactly in the same manner as is Auchentoshan, Rosebank & Benrinnes. It is an un-peated whisky. Expected to be relased at the age of eight years in 2006.
Recently (Spring 2001) Springbank bought the Glengyle Distillery Property were whisky was last produced in 1925 (only the walls remains). Springbank will re-equip and be making whisky at the old site within five years. The new whisky will be called Glengyle, and it will be a medium weight whisky using standard barley and less peated than Longrow.
More to come are different wood expressions like Madeira, Port, and perhaps even Cognac The legendary two Rhum versions fom 1973 (The 'green' whisky) was repeated with the release of a 1990 Rhum versions in the year 2000 on selected markets only, such as Sweden.
6)
Mac Duff is the ditillery's correct name. However, it is used by Indenpendent bottlers only. When the distillery bottles themselves they choose to call it Glen Deveron
7)
Produced on the premises of Montrose Grain Distillery. Called Hillside
1965-1980, thereafter Glen Esk.
8)
Produced on the premises of Moffat Distillery complex. One unit was a Grain distillery. The primary Malt line produced true pot still Glen Flagler single malt until 1969 when the configuration changed. The first step (wash Pot still) was replaced with a continiuous still. Hence there are two distinct different Glen Flaglers in circulation, pre and post 1969.
Beware! Glen Flaglers bottled after 1985 (closing year), may be vatted ones.
The second Malt line was used for producing true Pot still whisky and aimed for blending purposes only. The main product was Killyloch (eg. Lillyloch). A few casks slipped into the hands of IB's and a limited edition of approx 1.000 bottles have been in circulation.
A receipe version was also made in this secondary line. Islaebrae was its name and it contained heavier smoked malt (40 ppm compared to 3-5 ppm) than main one.
9)
Glenburgie is made in regular stills, Glencraig was made in lomond stills on the Glenburgie premises.
10)
Glenordie is a recipe version of Ord.
Glen Ord is the 'modern' name for Ord.
11)
Inchmurrin and Rhosdhu are versions of Loch Lomond and made in the same stills.
The stills are stills reminding of Lomond type. A still whose geometry may be changed dynamically and hence have different reflux properties.
There are four other single malts produced, but available for blending purposes only. They should be considered as recipe versions and have never been released as singles they are:
The over peated 'Croftengea' produced in Rhosdhu-style and 'Inchmoan' produced in Inchmurrin-style. Further, the less peated ones are Glen Douglas and Craiglodge both produced in Inchmurrin-style.
Loch Lomond is now sold under the 'Loch Lomond' label by the distillery too. Earlier this name was only used by IB's who used it for any versions of products from the distillery.
12)
Inverleven is made in regular stills, Lomond in lomond stills on the Dumbarton premises. The Inverleven version may surface under the name Dumbarton.
13)
Was a separate production line at Lagavulin. Closed 1960. Used the same mash tun as Lagavulin.
14)
Miltonduff is made in regular stills, Mosstowie was made in lomond stills on the Miltonduff premises.
15)
Was a grain distillery but made a single malt on their premises 1958-1960.
The only distillery to produce a single malt whisky from a continious
(Coffey) still after 1945. This was not uncommon 1887-1945.
Re-named North of Scotland circa 1960 and changed the mash bill from 100%
malted barley to a mix including unmalted barley, hence it became a grain
whisky distillery and not longer a producer of single malt whisky.
16)
Tobermory is today vatted but pre-1975 it was a single. Remaining casks from theese days are sometimes bottled as Ledaig single malt. Recently (1996) Tobermory released a single malt without age given.
17)
Started production 1995. First legal was available in Sept/Oct, 1998. Aprox 300 bottles were released from the first cask
18)
Bottled under a new name 'Drumguish'.
19)
The name 'Braeval' may be used too.
20)
Jackson Row is their one shot experimental 'blond' whisky.
21)
Glenlivet (Minmore) is a bottling from an older, now defunct second stillhouse, e.g. a secondary production line. Exist only in a Caidenhead bottling (have it).
22)
Glen Scotia reopned late spring 1999 is temporay operating under the management of Springbank.
23)
Knockdhu changed name to An Cnoc in 1988 to avoid confusion with Knockando.
The official name of the distillery still is Knockdhu.
24)
Glenisla is a heavy peated version of Glen Keith.
25)
Craigduff is a heavy peated version of Strathisla.
26)
Dallas Dhu is the correct name. However, it is used by Indenpendent bottlers only. When the distillery bottled a small quantity by themselves, some time ago, they choosed to use the distillery's intial name Dallas Mhor
27)
A new distillery on Islay to be started during 2002.
28)
Bruichladdich is (2002) going to produce a medium peated (more than 'proper' B) under the name 'Port Charlotte'
and a heavy peated (60ppm+) called 'Ochtomore' after an old distillery on their premisses.
29)
The Dunback was a peated and Dunglass an unpeated malt from Littlemill



A complete list of all 'anomalies' eg un-scotish Single Malts.

My definition of 'anomalies' to be qualified on the list is:
The whisky must be made from malted barley to 100%,
the production steps and methods must be equal to traditional scotish pot still destillation ,
(no continious still production!), and finally ageing in oak cask is compulsory.




1)
Produced before 1948, probably the only remaining bottle.
2)
Producer's former name was San Raku Ocean. Now it is renamed as Mercian. This is the
smallest of Japanese Single Malt producers.
3)
Suntory runs two distilleries 'Hakushu' and 'Yamasaki'.
There are one single malt released from each distillery with the distillery name, e.g. Suntory-Yamasaki
and Suntory-Hakushu . Other Single malt labels are 'Hokkaido' from the Hakushu distillery.
Suntory is no longer producing their Kodaru (Bourbon Cask) & Kikoke (Fresh Mash Tank).
4)
Produce several label versions. First was Tyrconnell (1989 ) then Locke's. Another is Millar's
Black Label. The real gem is Connemara (Christmas 1995) with its 15 ppm peated malt
(75% of the malt is peated). This is really an 'un-irish' Malt.
First independent distillery on Ireland since the industry became monopolized
5)
Gleonora Distillery, consults Bowmore for quality control. The Single Malt
is not ready until 2002. Rumor says a few bottles from the first batch in 1990
was released (1997) under a fantasy name on the German market.
6)
Located on Tasmania. One of six? Australian Malt Whiskies
A version vatted with a Scotch Malt (Springbank) and called 'An Tipodean' is also made.
Also called Small Concern Distillery Co
7)
Takes the colour away from the whisky!!!. Its clear as water. And taste grappa!
The base is a scotish single malt (source un-known). Due to the process Glen Kella
lost the right to call it 'whisky' in a recent legal battle.
8)
Learned recently that"Oldmaster" was NOT always a single malt. The Falckenthal
Distillery always claimed it was a Single Malt. But after it came out that it really
was a blend they renamed it to "Edelfalke" which I have too (comparable to their
older brand "Der Falckner"). But they still label it with "Malz Whisky".
9)
Source is Celtic, Nurnberg, Germany.
10)
A Single Malt from Jamieson's old Bow Street unit. Available only
in a Caidenhead bottling (1963/1991).
11)
United Brewers built their malt plant in Goa in 1988. They malt their own
barley (and are now experimenting with imported Scottish peat, although that
is not yet ready). There is a single mash tun and six fermenters, all in stainless
steel, and two copper pot stills. The spirit is filled into ex-bourbon casks, and
matured locally for three to four years before bottling.
12)
A correct pot still malt whisky from Warengheim, Bretagne/France. Sold as a Single Malt. No age data.
Was released in March 1999. Previous versions seems to be blends
13)
This is one of the of the growing number of Single Malts made in US and the only one made in Pot Still.
Made from imported peated Highland Scottish Barley, and local Mountain
Spring Water. Aged in American Bourbon Casks for 3 years.
14)
This is one of the growing number of Single Malts made in US. It is distilled in a German Eau-du-vie still.
Made from peat-malted barley brought in from Scotland. Widmer Brothers ferments
the peat-malted barley on contract. Barrel-aged three years in several kinds of oak barrels.
A five and an eigth year is on its way.
Experiment with Sherry buts and, Oregon oak casks air dried and kiln dried charred wood.
15)
Nikka's runs two distilleries 'Sendai' and 'Yoichi'.
There are one single malt released from each distillery, with the distillery name, e.g. Nikka-Yoichi
and Nikka-Sendai . Nikka-Yoichi is VERY peaty.Other Single malt labels are 'Nikka Single Malt'
and 'Kariuzawa' from the Yochi distillery ' and 'Nikka Single Malt Whisky Miyagikyo' and
'Hokkaido' from the Sendai distillery.
16)
Made in Tesetice/Moravien. Peat imported from Scotland. Traditional
double pot still.
17)
Was produced in rejected equipment bought from from Bladnoch in the mid fifties.
Production ended March 1966. Most of the production was used in blends but a
limited quantity was bottled unblendes ,and hence is a single malt.
The Grain whisky (sometimes up to 45% in 'Skeppet') was also of Swedish
production (from same site that produces Absolut grain vodka now). Barley came
from the province of Scania , peat from Smaland and. The malting took place in a
pagoda roofed kiln erected in the city of Sodertalje. Water was from city mains.
18)
It is filtered through and aged with various 'celtic' herbs.
The base is a scotish single malt (source un-known). Due to the process they lost the right to
call it 'whisky' in a recent legal battle.
19)
Own by Seagram. Label is 'Crescent'. No age.
20)
To be released. Samples available, new make spirit as well as some different casks and phenolic versions
21)
This is one of the growing number of Single Malts made in US. It is distilled in a German Eau-du-vie still.
The malt is dried by wood smoke, not peat.
Aged 18 months in bourbon, Oregon oak, barrels.
22)
Located on Tasmania. One of six? Australian Malt Whiskies
23)
Owns Tomatin produces.
24)
Located on the 'mainland'. One of six? Australian Malt Whiskies.
25)
Produced a single malt whisky 1952-1974 in the town of Roskilde.
26)
Makes Golden Horse
27)
Closed and defunct 2000.
28)
Erected a new distillery 1985, the KOMAGATAKE distillery near HAKUSHU
(close to Suntory). Brands: KOMAGATAKE 10Y.O. and Marusu (Mars).
29)
Produces a Single Malt Whisky made from 100% malted/unmalted OAT.
30)
Produces a Single Malt Whisky made from 100% malted RYE.
Comes in three different versions.
31)
Produces a Single Malt Whisky made from from 100% barley, 100% rye and a 100% malted barley-rye mixture.
32
Still experimenting.
33)
Located on Tasmania. One of four Australian Malt Whiskies.
A 4 year old bottled from a single cask.
34)
A 14 year old malt whisky from Dolany distillery in Tjeckien.
35)
Their ANKARA is NOT a 100% malted barley whisky as it also contains malted rye in the mash bill

36)
Lantenhammer Distillery in Bavaria. Released 1600 bottles of a 3 year old in May 2002. Malt dried partly
by smoke from beech, similar to St george/Us. Twice distilled in alambics. Matured on american white oak casks.
37)
From Sonnenschein Distillery in Witten, produces a non chill-fitered 10 year old malt whisky. Scarse quantity.
A one-shot try.
38)
Distillery located in Colonia San Pedro a 20 minutes drive west of Bento Goncalves along the 'Caminhos de Pedra'.

39)
Distillery located in Champagne/France. Est 1997. Distill in eau-du-vie stills. Their 100% malt whisky is dried
by oak smoke and beach leaves (yes leaves).
>
40)
Released 2002/4 year, in limited quantity, 70 cases/$350 a bottle. Is finished with hops!!!.
41)
'Eddu' is low in peat and made from partly malted BUCKWHEAT!.
A 100% malted buckwheat whisky seems to be in the pipeline
42)
Produces a Single Malt Whisky made from 100% malted RYE. Young. Matured in french oak. Located near Vienna.

43)
Unpeated malt from Queensland's third distillery. 2-3 year old (2003).
44)
This Finnish single malt distillery may be the most northerly one (in competition with Blackwood/Shetland
Islands and Mackmyra/Sweden). First batch produced in September 2002. Expeiment with double wood (finnishing
in rum, cognac and other cask types). Plan to do a first release in 2008.


---

A complete list of all Single Grains from 1945 to today.
1)
Produce(d) Ben Nevis Single malt on the premises.
2)
Produce(d) the new (1965) Ben Wyvis Single malt on the premises.
3)
The Grain whisky unit Inver House, also known as Garnheath and Moffat,
closed july 1986. Glen Flagler and Killyloch (also known as Lillyloch)
Single malts was made on the premises too.
4)
Produce(d) Lochside Single malt on the premises.
5)
Produce(d) Glen Esk Single malt on the premises.
6)
Produced Strathmore Single malt from a patent still!!!
Changed name to North of Scotland circa 1960 and changed
the mash bill from 100% malted barley (which gives a MALT whisky)
to include unmalted barley (then it became a GRAIN whisky).
See also the Single Malt list.
General remark.
It is not the production method (colonn or pot stills) that defines a scotch malt whisky. It is the mash-bill. A malt whisky must be made from 100% MALTED barley. If UNMALTED barley is included then it becomes a GRAIN whisky.
7)
Bottled as Single Grain by Grants under the name Black Barrell.
Produce(d) Ladyburn Single malt on the premises.
8)
Produces Kinclaith Single malt on the premises.
9)
Produces Inverleven Single malt on the premises.



---

A complete list of all Scotish Malt distilleries lost during 1885 to 1945.
This list does not contain names for distilleries that became defunct before Alfred
Barnard's complete mapping of the industry 1885-1987.
I have chosen the name known at Barnard's time.
Reasons for a name not present on this list (or on this page) are: a) it is not a distillery
name, b) the distillery became defunct before 1885, c) it may be an alternative
lesser known, name of the distillery.




Also check my page Lost Distilleries 1885-1945


| Distillery________________ | Distillery________________ | Distillery________________ |
| --- | --- | --- |
| Adelphi 1 | Albyn | Annandale |
| Ardgovan (8) | Ardlussa (8) | Argyll |
| Auchinblae | Auchnagie | Auchtermuchty (8) |
| Auchtertool | Ballechin | Bankier (8) |
| Benachie (8) | Benmore (8) | Ben Wyvis/Ferintosh (2, 8) |
| Bon Accord | Bo'Ness | Burnside |
| Campbeltown (8) | Clydesdale | Dalaruan (8) |
| Dalintober | Dean | Devanha |
| Drumcaldie | Dundashill (8) | Edinburgh |
| . | Gartloch | Gerston II/Ben Morven (7, 8) |
| Glenaden | Glencawdor | Glencoull |
| Glendarroch (4) | Glenfoyle | Glengyle |
| Gleniffer | Glen Mavis | Glen Nevis |
| Glenochil | Glenside | Glenskiach |
| Glen Tarras | Grandtully | Grange (8) |
| Greenock | Hazelburn (8) | Isla |
| Kinloch (8) | Kintyre | Kirkliston (8) |
| Langholm | Loch Katrine | Lochhead (8) |
| Lochindaal (8) | Lochruan | Longrow (1) |
| Meadowburn | Nevis | Parkmore (5, 8) |
| Pollo | Provanmill | Rieclachan (8) |
| Saucel | Speyside (6) | Springside |
| Strathdee | Stromness (3) | Stronarchie (8) |
| Tambowie | Towiemore (8) | Yoker |

Name in Italic designate that bottle(s) from the distillery does exist.
They have surfaced at auction houses (listed on Internet such as Christie's Semi
Annual Whisky Auctions, there are others), or in known collections (listed on Internet)
and at dealers (listed on Internet) specialising in old, rare and antique single malt whiskies .
Links to Auction houses/Dealers/Collectors are found on my Link Library Page

1)
Springbank is re-using this name.
2)
Original producer of Ben Wyvis
The name Ben Wyvis was reused by another distillery during 1960's.
3)
Also called Man-O-Hoy (defunct 1928). Surfaced on Christies
whisky auctions in Glasgow, Nov 1992. Price £ 950
4)
Also called Glenfyne (defunct 1937). A bottle of their Glen Crinan surfaced
on Christies whisky auctions in Glasgow, Nov 1997. Price £ 1.000.
5)
Defunct 1931. Surfaced on Christies whisky auctions in Glasgow,
March 1995. Price £ 750.
6)
Nothing to do with the new Speyside.
7)
Gerston I was demolished 1882.
Gerston II changed name to Ben Morven 1897
8)
Theese are for sale at Euro 7.500 in average , check my link page at Collectors.

---
MOTHBALLED AND DEFUNCT DISTILLERIES.


Mothballed (intact) and Defunct (destroyed) distilleries as of January 29, 2001.
(D 83 = defunct 1983; M 93 = mothballed 1993.)

The distilleries are listed under their last registered name.
In the event the distillery was known under an alternative
name post 1945, that name is enclosed in brackets.

Please notify me regarding updates



M 02 Allt a'Bhainne
D 83 Banff
D 77 Ben Wyvis
M 02 Braeval (aka Braes of Glenlivet)
D 83 Brora (aka Clynelish A (old) pre-1969, Clynelish B (new 1969) is operating)
M 95 Bruichladdich (production will commence Spring 2001)
M 02 Caperdonich (going to be demolished?
D 85 Coleburn
D 85 Convalmore
D 83 Dallas Dhu
D 83 Glen Albyn
D 81 Glencraig
D 83 Glen Esk (aka Hillside)
D 85 Glen Flagler (Killyloch was their second line)
D 86 Glenglassaugh
M 00 Glen Keith
D 83 Glenlochy
D 83 Glen Mohr
D 83 Glenugie
D 85 Glenury-Royal
M 98 Imperial
D 91 Inverleven
D 76 Kinclaith
D 75 Ladyburn
D 94 Littlemill
D 92 Lochside
D 85 Lomond
D 60 Malt Mill
D 85 Millburn
D 85 Moffat
D 81 Mosstowie
D 83 North Port (aka Brechin)
D 02 Pityvaich
D 83 Port Ellen
M 93 Rosebank
D 83 St. Magdalene (aka Linlithgow)
D 60 Strathmore
M 95 Tamnavulin

Watch status for the following, they may/may not be
in production from time to time, or recently fully revived.
I have classified all of them as T meaning 'Temporary in production'.
T 00 Benriach (re-started in 2004)
T 00 Bladnoch (re-started 2000)
T 00 Bunnhabhain
T 00 Glenburgie
T 00 Glencadam (sold to A Dundee May 2003, revived from status D)
T 02 Glendronach
T 00 Glen Rothes
T 00 Glen Scotia
T 00 Mannochmore
T 00 Scapa (re-started in 2004)
T 00 Tormore
T 00 Tullibardine (re-started 2004)

New (2003) to watch
Blackwood (Shetland)
Daftmill (Lowland)
Glengoyle-Springbank (Campbeltown,in operation 2004)
Kilchoman (Islay)
Ladybank (Lowland)
Ladybank (Lowland)
Ochtomore (Islay)




A click takes you back.
---

ulf@buxrud.se Malmoe, Sweden on March 15, 1996 HTML script by Ulf Buxrud © 1996